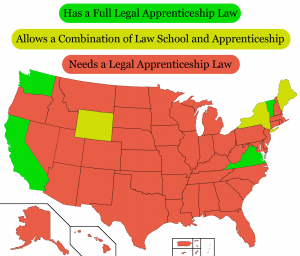 Want to pass a legal apprentice law in your state? Want to improve upon an existing legal apprentice law? We have created this page to keep track of such advocacy efforts across the country.
Introducing Apprenticeship Laws Across the U.S.
Click here for some tips and a sample letter to send your legislators, judiciary, or bar association.
Start a petition: If you launch an online petition to create an apprentice law in your state, we will include it on this page if you email it to janelle [at] theselc.org.
Oregon: Contact Ben Boyd at ben [at] hostetterlawgroup.com to learn about an active efforts to introduce an apprenticeship law in Oregon.
Texas: Contact Alina Virani at alinavirani [at] gmail.com to learn about efforts to introduce an apprenticeship law in Texas. In 2015, Texas State Representative James White introduced a bill (H.B. No. 2446) requesting the study of online law schools and attorneys who obtained their law licenses through apprenticeship programs. Perhaps this is a sign that they are considering allowing bar admissions to those who receive their degrees through online or correspondence law schools as well as those who obtained law licenses through legal apprenticeships.
Improving California's Apprenticeship Law
In February, 2015, the Sustainable Economies Law Center had promising conversations with California legislators about the possibility of introducing a bill to improve upon the current provisions of California's apprentice law. Read about our proposal here. Since we were too late to introduce a bill in 2015, we are aiming for 2016. We have already gotten a unanimous vote of support from the Board of Directors of the National Lawyers Guild San Francisco Chapter.
Improving Apprenticeship Laws in Other States
Click here for a guide to states that currently have apprenticeship laws. There is room for improvement in all of them. Please let us know if you initiate an effort to change apprenticeship laws in one of those states.