Becoming an Attorney Without Law School with the National Lawyers Guild
By Steven DeCaprio, Association of Legal Apprentices
The Association of Legal Apprentices (ALA) has been working to create a Legal Apprentice Committee within the National Lawyers Guild San Francisco Bay Area Chapter (NLGSF). This year I was granted the Haywood Burns Memorial Fellowship by the National Lawyers Guild (NLG) in order to focus on this work. Since we first approached the NLGSF about the opportunity for their affiliated attorneys to become mentors we have received enthusiastic support from within the NLG.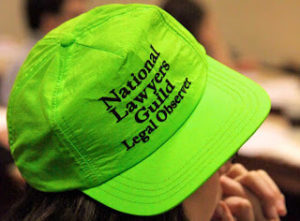 The NLG is the nation's oldest and largest progressive bar association and was the first one in the US to be racially integrated. Their mission is to use law for the people, uniting lawyers, law students, legal workers, and jailhouse lawyers to function as an effective force in the service of the people by valuing human rights over property interests.
Because the NLG is committed to overcome racial and class inequality their mission is aligned with the ALA's effort to promote the Law Office Study Program (LOSP) as an alternative to law school.
In fact the NLG publishes a "Disorientation Handbook" for law students and holds events "to provoke you to challenge traditional notions of how one must practice law and to suggest ways to make your three years of study more enriching and challenging." Accordingly, this collaboration is aligned with "Creating Your Own Progressive Legal Education" as stated on the cover of the NLG's "Disorientation Handbook".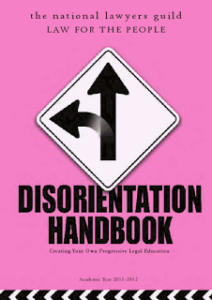 The NextGen committee of the NLGSF already has a list of potential mentors that exceeds the demands of their mentorship program for law students and new attorneys. We are now in the process of modifying the NLGSF's mentorship program to create a pipeline for marginalized people to study law under the LOSP.
The NLGSF providing a pool of prospective mentors there is only one major aspect of the work necessary to create the Legal Apprentice Committee. There must also be outreach to prospective apprentices from marginalized communities as well as support with curriculum and community for students and mentors.
Fortunately, Esq. Apprentice has been developing a pilot program for curriculum and support within the LOSP. Because of this I reached out Rachel Johnson-Farias, Esq. the Founding Director of Esq. Apprentice. She joined me at a NextGen meeting where she stated that she believes that the NLGSF can provide a "pipeline" for apprentices in the LOSP.
With Esq. Apprentice collaborating with the NLGSF through their NextGen committee we will be able to provide mentorship, curriculum, and support for prospective apprentices. The final step we need to make is reaching out to prospective apprentices and connecting them with these resources. The ALA has begun this work, and will begin expanding these efforts to community colleges and legal workers. Of course, we encourage people from marginalized communities to take this survey and let us know that you want to become an apprentice.
The NLG includes both attorneys and legal workers. Because of this we will be reaching out to legal workers in the NLG to begin apprenticeships with their current employers. This follows the model of the Sustainable Economies Law Center (SELC) who is sponsoring 4 of their employees through the LOSP.
Also, the NLGSF does not currently have outreach to local community colleges. This will be a second prong of our outreach efforts to prospective apprentices. Reaching out to community colleges provides an opportunity to increase racial diversity in the legal profession. Currently, the legal profession includes less than 12% people of color. However, Laney College in Oakland California has nearly the reverse demographics. Approximately 84% of Laney students are people of color. Reaching out to students at community colleges such as Laney provides the NLGSF an opportunity to increase racial diversity within its membership as well as the legal profession generally.
However, this work needs your support. The Haywood Burns Fellowship ends in three weeks and we need additional support if we are going to extend this work beyond that. As you can see there is much more work to be done. Please make a contribution today to support this work.