Legal Apprenticeships & Social Change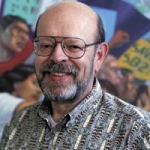 An interview with Gary Blasi
If you visit Echo Park today, you'll find a radically different community than the one Gary Blasi lived in when he started his journey as a legal apprentice. The hipsters, mod cafes, and steady progress of displacement through gentrification hadn't arrived. Rents were still affordable and families could live on one income. Just to give you some context, Blasi's rent was about $340 per month for a two-bedroom apartment! Today, renting a two bedroom in Echo Park will run you $2,200.00 per month.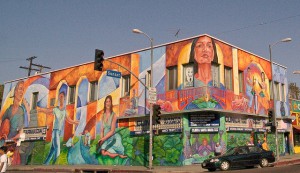 In 1971, Echo Park was a multi-racial, working class community. Blasi wasn't interested in going to law school. He was more interested in creating social change and figuring out what tools would best serve that purpose. Before beginning his legal apprenticeship, Blasi's prior exposure to lawyers had been almost completely negative. Not only that, but he didn't see them contributing to social justice in any significant way. As his work in the social justice movements of the 1970s progressed, he did meet attorneys that were working on issues that resonated with his activist sensibilities, and his perspective about the law began to change. Now, forty years after starting California's Law Office Study Program (LOSP), Blasi is a decorated Professor Emeritus of UCLA Law School. How did that happen?
"Its California. You don't have to go to law school."
"You want to be a lawyer?"
"I've spent too many years in school already."
"Its California. You don't have to go to law school."
From a conversation between Blasi and a grad school dropout at the Echo Park Food Conspiracy—an underground food coop—an award winning legal journey began. While working nights in an orange juice factory, Blasi, and five friends, decided to become attorneys through California's LOSP. Fortunately, they found a supervising attorney that was willing to take them all on as apprentices (NOTE: in the 1970s, there was no cap on how many apprentices a single attorney could supervise. This part of the law was subsequently amended to restrict each attorney to only two apprentices). Carol Smith, an attorney at the Echo Park Community Law Office, supervised the six apprentices while they performed clerical duties for the law office. Smith, Blasi says, was one of possibly ten women in her graduating class at UCLA School of Law.
Smith's practice was mainly focused on criminal defense cases. The apprentices, however, were able to work on cases that typical criminal defense attorneys didn't work on. One example? Blasi and his compatriots, under the watchful eye of Smith, challenged the entire jury selection system of LA County. They argued that the jury selection process, which was based off of voter registration rolls at the time, was discriminatory against poor and working class people. In People v. Harris, 36 Cal.3d 36 (Cal.1984), it was shown that even though the Hispanic population of LA County was 27.6%, of the potential jurors appearing at the courthouses over a three-and-one-half month period in 1979, only 3.4% were Hispanic! This argument, and other similar arguments like Blasi's, led LA County to make significant changes to how juries are selected. "I saw learning these legal tools as a way to do social justice work," said Blasi.
Blasi appreciated the experiential learning involved in the legal apprenticeship. It made the content of his textbooks leave the abstract world and relevant to the work of social change he was trying to create in his community. He learned how to produce a complaint for civil law suits not from a law school textbook but from looking at what other complaints looked like and then, actually creating them. "Most students find civil procedure really boring because they have no context to put it in, but to me, that was learning the nuts and bolts. I loved it," Blasi said. "A demurrer is not interesting until you find out what a demur can do for your client." (A demurrer is a defendant's way of saying "So what?" to the facts charged against them, and is a way to challenge the legal sufficiency of a cause of action in a complaint.)
"You don't learn to be a lawyer in law school."
When Blasi and his co-apprentices began their journey, they knew it would be an uphill climb. The objective of their journey was to learn how to be a lawyer. When Blasi asked other attorneys about how law school prepared them to practice law, they told Blasi, "You don't learn to be a lawyer in law school. You learn to be a lawyer when you work with other lawyers." Since all the apprentices worked in the Echo Park Community Law Offices 20 hours per week, they had that covered. So their next challenge was to figure out what it would take to pass the bar.
The apprentices prepared for the First Year Law Students Exam and the Bar Exam by reverse engineering their curriculum. They looked at the outlines in the Bar review prep outlines and used those to structure their curriculum. They visited UCLA and USC's bookstores, found what textbooks were being assigned to first year law students, and created a curriculum with their supervising attorney, Carol Smith. The six apprentices met two to three afternoons a week to teach each other what they had learned. It became an intense and intimate study group where Carol acted as their mentor. They read every page of their casebooks, hornbooks, and other Bar prep guides. It wasn't until later that the apprentices realized that even in law school, professors don't assign the entire casebook to students.
Then, as today, the California Bar exam was exceptionally difficult to pass. Of the six apprentices studying under Carol Smith, Blasi and three others passed the Bar exam on their first try. A fifth apprentice passed the Bar exam later. The passage rates for those studying law under the California LOSP are "pretty abysmal," says Blasi, and he doesn't advise others to pursue the LOSP lightly. What's Blasi's advice now? "Take an LSAT prep course and take the LSAT." That way, he says, you'll have an idea about what kind of law school you could get into, if you wanted to go that route, and it will give you an idea of how steep you'll have to climb to pass the bar exam. So, does he recommend the legal apprenticeship today? Yes, Blasi says, "provided that they figure out how do it with someone and that they take a realistic look" at whether their previous education has enabled them with the analytic and other skills necessary to pass the bar.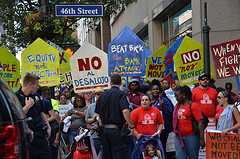 During his apprenticeship, Blasi began taking landlord-tenant cases. He said this occurred because the local legal aid agency decided that there were so many evictions in their service area that, instead of handling some and not others, they decided not handle any of them. What this legal aid agency did for people seeking eviction assistance was give them an eviction education packet. They found it so complicated and unhelpful that people began heading to the Echo Park Community Law Office. Blasi eventually made a deal with his supervising attorney: if Blasi did all the paperwork, his supervising attorney, Smith, would take the case to trial. It worked! Not only did they take cases to trial, this work led Blasi to help organize the community to push for better housing conditions and rent control.
In 1983, a few years after passing the Bar exam, Blasi began working at the Legal Aid Foundation of Los Angeles (LAFLA), specifically by starting LAFLA's Eviction Defense Center. It was his passion and drive for housing rights during his apprenticeship that allowed him to hone his craft and create programs that would impact thousands through the Eviction Defense Center. He spent the next 13 years working on landlord-tenant and social justice issues.
"Most law schools are designed to produce… future law professors"
When Blasi began his journey as a legal apprentice, he didn't hold any antipathy toward law schools. He simply wasn't keen on turning 18 years of school into 21 years of school. After 13 years of working at LAFLA, he was talking with a friend who worked at UCLA's School of Law, who asked if he had ever thought of becoming a professor. "No one would hire me, I didn't go to law school," Blasi said. His friend encouraged him to apply and, in 1991, he was offered a job to teach public interest law. Recently, Blasi became Professor Emeritus.
Through both his experience as an apprentice and as a law professor, Blasi has a unique perspective on both worlds. He does believe that law schools have an important role to play. For one, they have terrific teachers who are better at explaining material than a cohort of apprentices or a "faculty of one," i.e. the supervising attorney. Law schools also provide historical, social, and economic contexts around the law that you might not get from studying bar prep outlines. And during a law student's second year, Blasi says, people can drill down to their particular interests.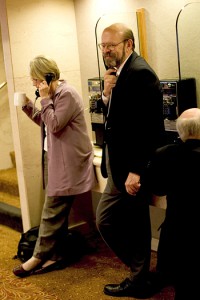 For all of the benefits that law schools provide (and we didn't get into the disadvantages), there were advantages that Blasi saw with the legal apprenticeship.  For one, "If you look at what lawyers do empirically and what you learn to do in law school, there's not a huge amount of overlap." Most law schools, Mr. Blasi says, "are designed to produce law clerks and future law professors more than they're designed to produce lawyers." If Blasi were re-designing legal education, he would "get rid of, at least, the third year of law school and replace it with an apprenticeship. Maybe the last year and a half, at least as an option." In fact, this option of combining law school and legal apprenticeship as a route to becoming an attorney is available in seven states, including Maine, California, New York, and Wyoming.
When asked whether he ever felt looked down upon because he became an attorney through the law office study program, Blasi spoke about how liberating it actually was. When in academic settings, everyone expected him to be from one of the top tier law schools, such as Harvard or Yale. The fact that he didn't go to any law school perplexed his colleagues; they didn't know where to put him "on the pecking order." When asked if he ever had problems being taken seriously by clients because he never went to law school, Blasi said, "They take you seriously if you're a good lawyer. A lot of people who went to fancy law schools are not very good lawyers."